Project Giveback assisted about 1,000 needy families this Thanksgiving season.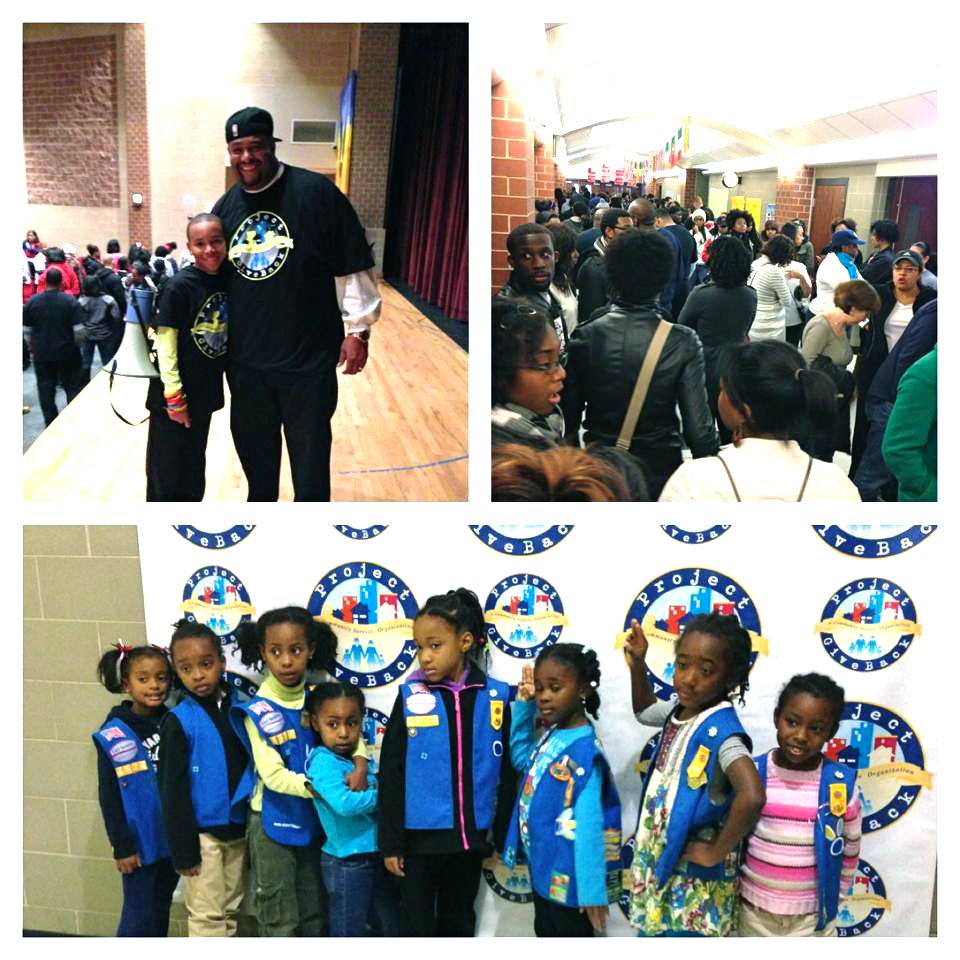 Volunteers help out on Project GiveBack's Thanksgiving food drive and distribution on Nov. 19, 2012. Photo courtesy Project GiveBack. 
Grandmother Linda Cole is on a fixed budget this Thanksgiving because she struggles to pay tuition for her 9-year-old granddaughter to attend private school.
"She's a spinning top," said Cole. "You have to keep them busy otherwise they'll fall like the rest of them."
Cole found help from Project GiveBack. Now in its 18th year, Project GiveBack is a nonprofit that hosts an annual Thanksgiving food drive that helped about 1,000 needy families in the greater Washington D.C. area this season.
About 500 volunteers came together on Saturday to assemble and distribute the Thanksgiving food baskets containing essentials like frozen turkey and canned sides to local families and assisted living facilities.
"Our goal is to serve as many people as possible," said Hardisha Miller, who runs Project GiveBack with her husband Ransom Miller III. "It started with one or two families and it just got bigger over the years."
One family that came out to GiveBack was the Franklin family, who hauled groceries in their SUV from Project Giveback's temporary headquarters at Columbia Heights Educational Campus in Northwest D.C. to Anacostia, where they dropped off food.
"It's important to give back to those in need," said Dwight Franklin, who was volunteering along with his wife, Shelley, and their three children, Nahja, 15, Malik, 17, and Leila, 2.
The Franklin family visited two homes, one was Cole's first floor apartment. Cole told the family about her granddaughter and two adult children, one of whom, Kelly, who was a teenager when she gave birth to her daughter, Makaila.
Makaila attends the Washington Middle School for Girls, a Catholic school in Southeast D.C.. The school's website states that the program provides an environment "for young girls who are living in an under-served urban area and are at risk of leaving school prematurely."
The fourth-grader is attending the school on a partial scholarship, with Cole paying for the $25 a week tuition and uniforms that run at about $100 a year, Cole said.
"It's been difficult," Cole said. "We just don't have enough."
Cole thanked the family for stopping by her home and helping her out this Thanksgiving, and the Franklin family reflected on what they said were their own advantages.. Both Dwight Franklin and his wife attended Howard University, and son Malik, a senior in high school, plans to attend Morehouse College.
"It's sad that she's a grandma having to take care of her granddaughter," Malik Franklin, who adds that $20 a week for his allowance, said. "It makes me thankful for the life I've had."
The parents, Shelley and Dwight, said that they would fine other ways to help more and may start giving her money periodically to help out.
"She could take the attitude that her job is done, but she's stepping up to the plate," said Shelley Franklin. "You always want something more for your child. People are easy to believe that people who are less fortunate don't want the same things for their kids."
"It shows her courage that she reached out for help to let people know she's in need," she adds.
HOW TO HELP
If you are interested in helping out the organization, visit Project GiveBack online for more details.